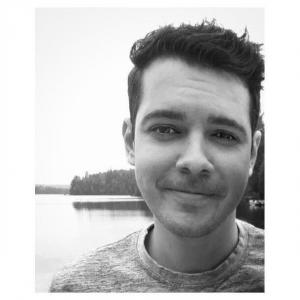 Diogo Pinheiro
Artist member since 2019
Brampton, Ontario
Emerging artist Diogo Pinheiro was born in Lisbon, Portugal and currently lives in Brampton, ON. He graduated from OCAD University in 2015 and received a BFA in Drawing and Painting. He explores ideas of beauty that offer qualities that help his life. His work consists of urbanscapes that are geometrically simplified and colourful through oil paint on wood panels. Diogo is inspired by artists such as Edward Hopper and Charles Sheeler for their ability to create an urban environment that seems to have been frozen still in time.
Diogo's works revolve around the idea that forms of "beauty" often go unnoticed, yet contain qualities which provide a positive basis for a better life. Beauty is conceptualised as balance and structure, shown through the simplification of geometric shapes and colour. Diogo uses urban locations as the focus for his works, such as alleyways and train stations, with the purpose of portraying areas that are often over looked or ignored due to the fast pace nature of urban environments. Placing these in a confined area such as a wood panel makes it a focus for the viewer to emerge themselves into.
---
Best season of the year in Toronto
Summer but I am biased because I love hot weather.
Beverage of choice
coffee, may have an addiction to it but it's necessary as an artist.
Coffees per day and from where
Make it myself but don't consider myself as a coffee connoisseur, nor do I care what it tastes like as long as its black and doesnt taste like boxed raisins. I drink about 3 to 8 cups lol.
Favourite book
The Poet by Michael Connelly
Describe your home in 3 words
Clean - organized - chaos
Why is it important for people to have art in their home or life?
To hide holes on the walls.
Select Past Exhibitions
2019
The Artist Project - Toronto

2019
Toronto Outdoor Art Fair - Toronto

2019
The Freedom Factory Gallery - Toronto
VAM Exhibition -3rd Annual Juried Exhibition
Accolades
2019
TOAF - Toronto Outdoor Art Fair
Honorable Mention - Painting
2019
The Freedom Factory's VAM Exhibition -3rd Annual Juried Exhibition
1st Place Winner
Press
2019
Now Toronto Magazine
20 artists to check out at the Toronto Outdoor Art Fair 2019
Education
2015
OCAD
Fine Arts Degree - Drawing and Painting
SHARE THIS ARTIST